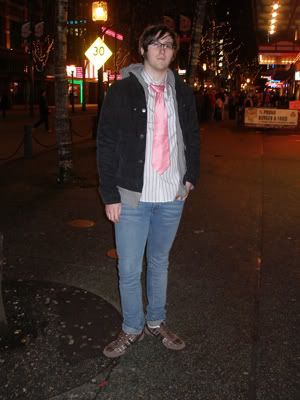 I was trying to come up with a clever and catchy title for this post, but all i could think of was to try and combine the two street names... what did i get? robville... or gran(d)son... either way, not catchy in the least.
Regardless, I've always thought of Robson and Granville as sort of the hub of Vancouver. It doesn't really matter who you are, you've probably set foot on this street corner countless times. The reason I crossed it today, was because I had been downtown for an interview with the
WE
. They are writing a feature article about
the commodified
for their 'Best of Vancouver' issue. Make sure you pick up a copy next Thursday (Feb 22).
As for today's pics, pretend you're me for a sec. you're walking down the street, and what catches your eye? nothing other than a flashy pink tie! i'm not gonna lie, it totally made my day.