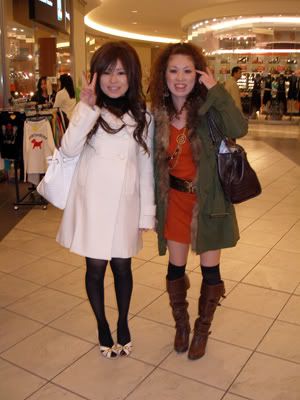 i'm more of an east-suburb kinda guy, if i have to choose any. you know, burnaby, coquitlam. if i'm ever found outside downtown, those are my stomping grounds. today, though, i decided to go somewhere i've never been before. richmond. well, apart from the airport, that is. i've never even been to the night market before! but over the last few years, i've heard lots of talk about how great richmond is for cheap imports, and i wanted to see for myself. so i headed out to the acclaimed
aberdeen centre
.
apart from getting lost on the way there, here is where i went wrong: expecting cheap imports at aberdeen centre. okay, that's not entirely true. i'll explain.
yes, aberdeen centre is the home of
daiso
, which is 2 floors of cute things you probably don't need but will probably buy anyways: stationary and housewear mostly, but also some accessories and makeup too. and for those of you who don't already know, i should probably also mention that everything in the store is $2. so that's cheap finds #1.
cheap finds #2 is the foodcourt. pretty much, the food is inexpensive and delicious. although, if cantonese is not a language you read or speak, you may have to just point and hope for the best.
but if the point of your trip was to find a new outfit for a reasonable price, you might be disappointed, especially if you are a guy. there really aren't any decent stores for guys. for girls, you'll have to hunt through a lot of crap on the sales racks to find a worthwhile deal. nevertheless, make the trip out to aberdeen to browse designer clothes you may or may not afford, depending on your financial status and/or will power. its way more fun and interesting to see what the store owners of these little asian boutiques have picked out of
vivienne westwood
and
anna sui
's collections, than to see the choices of holt renfrew's buyers.
lastly, i thought i'd be able to find one of those magazines from hong kong with all the stills from the last season's fashion shows -- you know, like
collezioni
, but cheaper. i didn't find any, but that's probably because i'm an idiot, and none of the new ones would be published yet. regardless, if you do want a copy of collezioni, you can go to chapters on robson, or
sophia books
on hastings. but, you can also find
fruits magazine
at sophia books, so i suggest the latter.