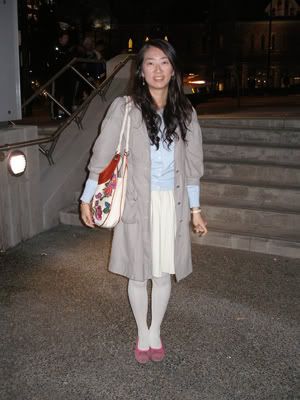 this young lady was caught outside tim horton's on burrard street on thursday night, as i was on my way in for an addictive english toffee coffee. starbucks? cafe artigiano?
what?
the thing i loved most about her outfit was the careless curls, puffed sleeved trench, and kitten heels. but especially the heels. she mixes and matches the muted colours so effortlessly, but the touch of magenta on her shoe adds a daring accent.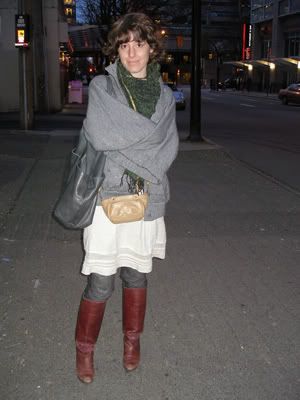 i think what immediately caught my eye about this one was that she reminded me of a friend, the hair and face especially. but what makes this outfit commodified-worthy is the effortlessness with which it seems to be put together. One of the problems with vancouver's style, in my opinion, is that we tend to leave out the latter half of "hobo-chic", and all just end up looking homeless. Its much nicer when your outfit gives off a careless vibe, but you still look pulled together. there is still that touch of class. I think she above, does so wonderfully.
secondly, a note on slouchy boots. see these? these ox-bloods are the real deal. not some 80s knock-off from aldo, with every crinkle masterfully planned. speaking of which, walking down the north side of robson street makes me sick. its like the auto-mall of aldo shoes. have you ever gone in to each one, and noticed that they ALL sell the exact same shoes and accessories. if it wasn't for the signs outside, i would swear that there was 12 of the same store on the strip.