first post with pictures by Dani.
***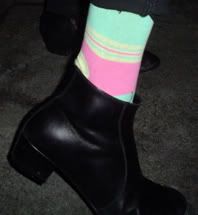 NAME:
Jared
OCCUPATION:
Bassist, Kings of Leon
WEARS:
Dior Homme
jacket ($2100);
J.Lindenberg
shirt ($250);
Ksubi
pants ($300);
Dior Homme
boots ($500)
DANI SAYS:
"Everything he is wearing is name brand, he made a huuuge point of letting me know by stating the prices of everything. According to him, 'People who read [The Commodified] wont be able to afford any of this.' Jared also shared with me his hate for ugly musicians, stating: 'I only listen to music made by attractive people, you know?' No Jared, we don't know."