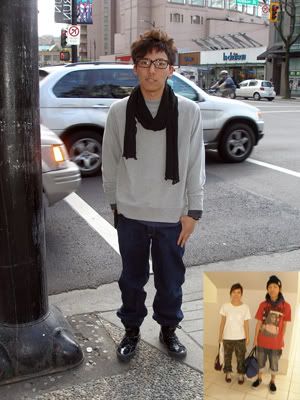 after taking his picture, i offered him a card so he could visit the site later, and feel confirmation knowing i'm legitimate. oh! but it wasn't necessary... instead of taking the card, he said "it's okay. i know it already!" and i said "the commodified?" and he agreed. i kinda felt a bit famous, for a moment there, but then he told me that i had already taken his picture once before... i, however, could not remember him for the life of me. i like to pride myself on having made a connection with everyone i photograph, but seriously, when he told me i took his picture in metrotown, i was plagued all day as to who he was.
after searching my archives thoroughly, i finally found him way way way back in august 2006, the birth month of my blog. the first picture is superimposed above, but here is the
original post
. needless to say, he's undergone a major transformation.
seriously, this guy is my style hero. note the boots.